Lots of interesting abstracts and cases were submitted for TCTAP 2023. Below are the accepted ones after a thorough review by our official reviewers. Don't miss the opportunity to expand your knowledge and interact with authors as well as virtual participants by sharing your opinion in the comment section!
TCTAP A-099
Hypertrophic Cardiomyopathy and Noonan Syndrome With Multiple Lentigines Among Three Generations in One Family
By Man Fong Chu, Weng Chio Tam, Mario Evora
Presenter
Man Fong Chu
Authors
Man Fong Chu1, Weng Chio Tam, Mario Evora
Affiliation
Centro Hospitalar Conde de Sao Januario, Macau1
TCTAP A-099
Hypertrophic Obstructive Cardiomyopathy
Hypertrophic Cardiomyopathy and Noonan Syndrome With Multiple Lentigines Among Three Generations in One Family
Man Fong Chu1, Weng Chio Tam, Mario Evora
Centro Hospitalar Conde de Sao Januario, Macau1
Background
Noonan syndrome with Multiple Lentigines (NSML), formerly known as LEOPARD syndrome, is a rare multi-systemic disorder that is inherited in autosomal-dominant manner. It was first described by Gorlin et al in 1969, characterized by six major features: lentigines, electrocardiographic conduction abnormalities, ocular hypertelorism, pulmonary stenosis, abnormalities of genitalia, growth retardation and deafness. About 200 cases has been reported in the English literature so far, but the incidence of NSML is not well documented. NSML is one of "RASopathies" related to gene variants within the Ras/Mitogen-activated protein kinase (Ras/MAPK) pathway. Approximately 85% of patients with NSML are associated with missense mutation in exon 7, 12 or 13 of PTPN 11 gene on chromosome 12q24. NSML mutations downregulate the activity of protein tyrosine phosphates SHP2, which enhances melanin synthesis in melanocytes causing diffuse lentigines. Hypertrophic cardiomyopathy (HCM), one of the diagnostic criteria of NSML, results from sarcomeric protein mutations and could be asymptomatic and easily missed at its early stage. Herein, we report three patients with NSML among three generations in one family, with emphasis on their echocardiographic features and importance of family screening.
Methods
A 36-year-old male with past history of bilateral congenital deafness, presented to the dermatology clinic with diffuse black to brownish pigmentated macules. These skin lesions increased in number and darkened while he was growing up (Fig.1A). Facial dysmorphic features, which include prognathism and bilateral low set ears were remarkable (Fig.1A). The result of genetic test enclosed missense heterozygous mutation of PTPN 11 gene, exon 7, c.836A>G, pTyr279Cys. NSML was clinically and genetically diagnosed based on diagnostic criteria proposed by Voron et al. He presented with occasional exertional dyspnea. Physical examination revealed a regular heartbeat with a grade II systolic murmur. ECG revealed sinus rhythm and left ventricle hypertrophy with strain pattern. Echocardiogram revealed septal wall hypertrophy (22mm) without outflow obstruction (Fig.1B,1C). Cardiac MRI showed consistent with echocardiography (Fig.1D,1E). As the sudden cardiac risk score of HCM was low, ICD was not indicated for primary prevention. Beta-blocker was initiated and patient was instructed to avoid vigorous physical exercise. A family screening was performed and found his mother and son is also remarkable for multiple facial brownish spots since early childhood. His elder brother died at the age of 32 due to sudden cardiac death (Fig.1F).Proband's sonA 4-year-old boy with multiple lentigines and two café-au-lait macules on his face and trunk (Fig.2A) presented with systolic murmur on physical examination since birth. No deafness or developmental delay. Echocardiogram revealed normal ventricle size and function, septal wall hypertrophy (17mm) without intra-cavity or outflow obstruction(Fig.2B), atrial septal defect (7mm, left to right shunt) (Fig.2C) and right pulmonary stenosis(Fig.2D) and Genetic sequencing revealed PTPN11 gene mutation.Proband's motherA 66-year-old women with multiple lentigines since childhood(Fig.2E).Echocardiogram revealed HCM with significant septal wall hypertrophy(26mm)(Fig.2F) and mid-cavity obstruction with pressure gradient(17mmHg)(Fig.2G,2H). ICD followed by septal wall myomectomy was propsed due to high SCD score.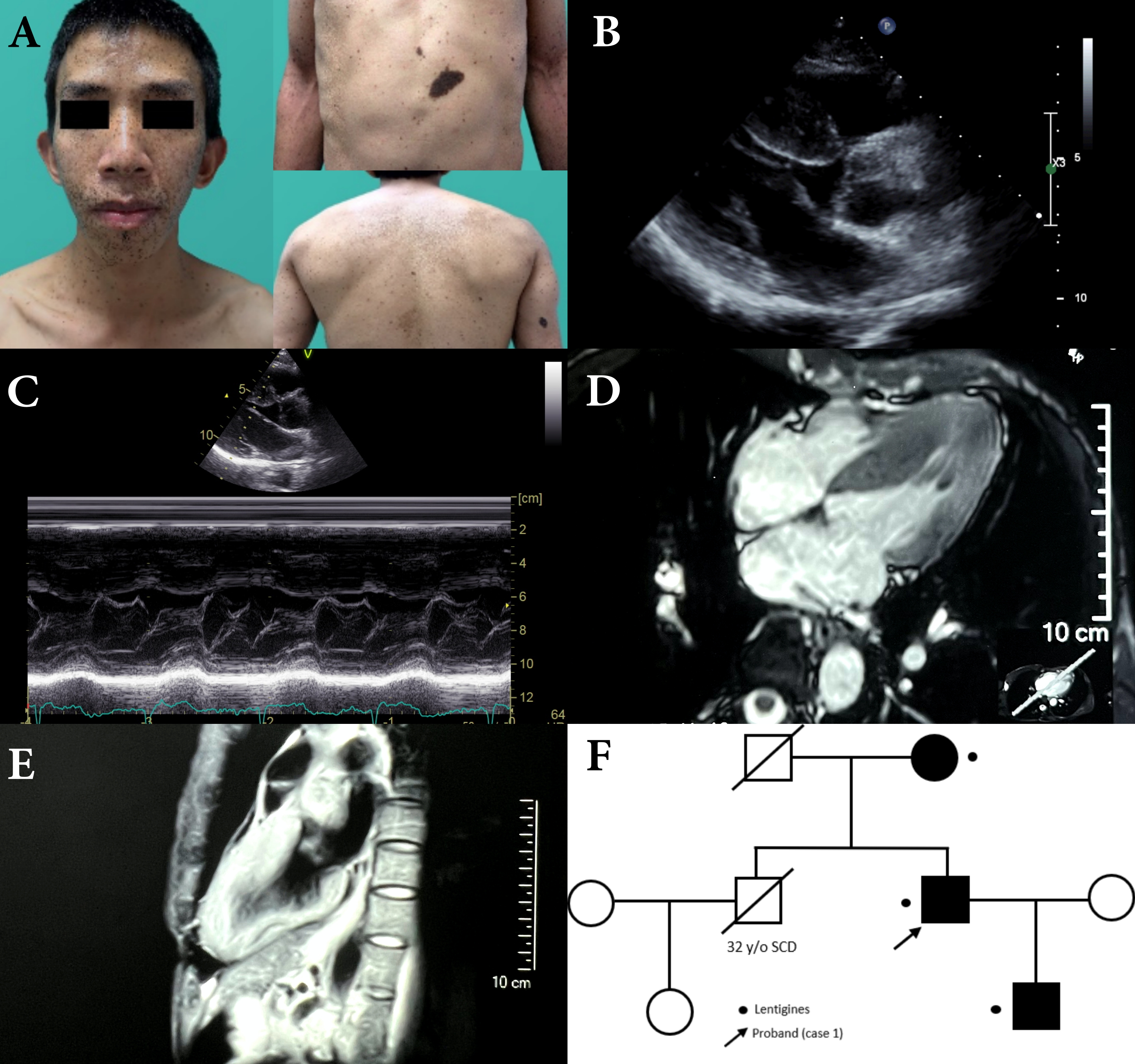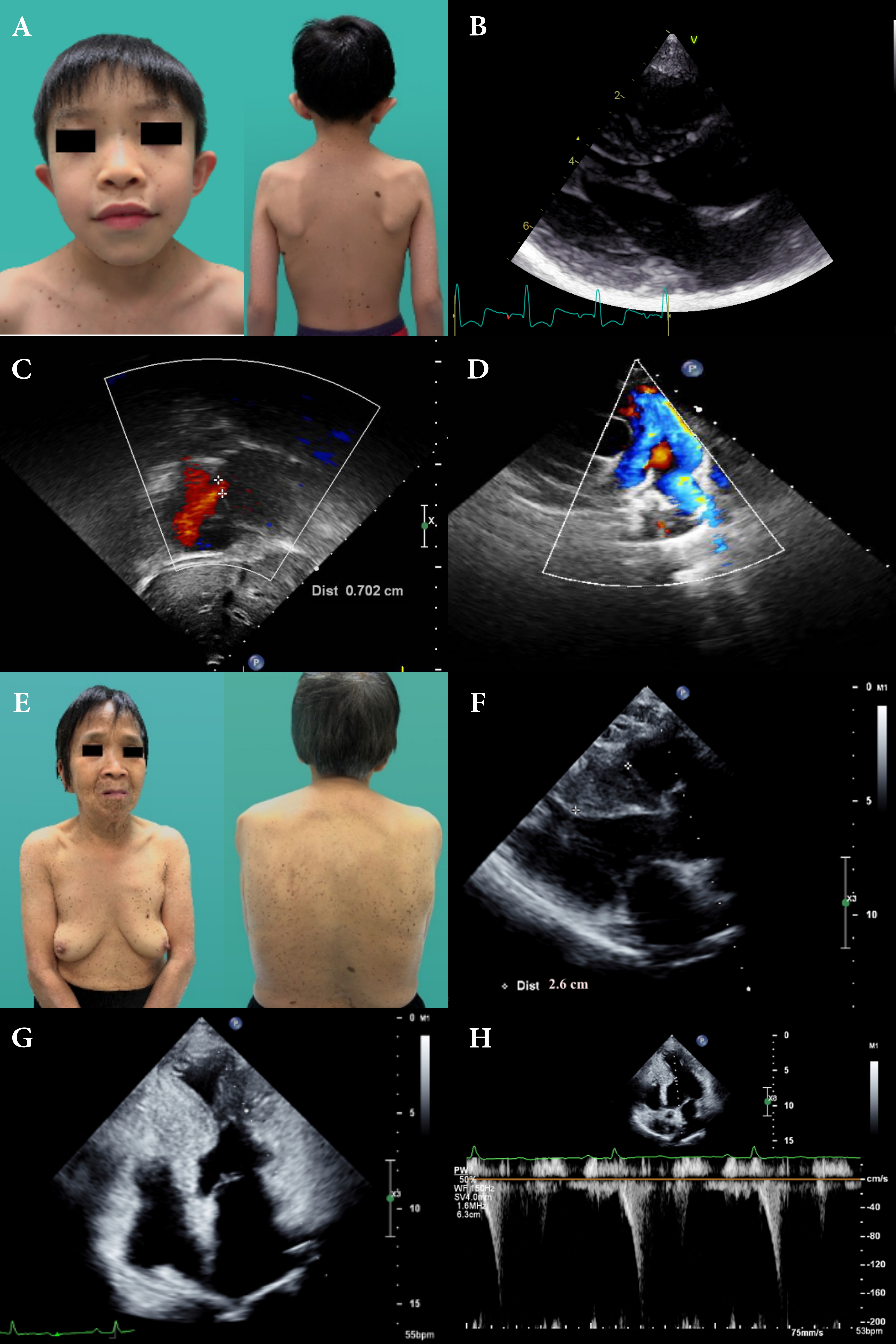 Results
In this case series, we document the clinical manifestations of NSML among different generations in one family, with emphasis on cardiac and cutaneous presentation of different stages of the same disease from childhood to elderhood. Of note, all 3 patients do not receive any treatment or evaluation until confirmation of diagnosis of NSML. Our report confirmed that NSML-related HCM without treatment could progress to outflow/intraventricular obstruction gradually (proband's mother) and lead to sudden (cardiac) death (proband's brother). We also identify clearly the distinctive clinical manifestation and evolution of the disease, especially different cardiac phenotypes at different stages. Diagnosis of NSML is usually challenging before the appearance of multiple lentigines during early childhood. However, HCM usually precedes the occurrence of the cutaneous involvement and NSML should be suspected in patients presenting with facial dysmorphism (100%), hypertrophic cardiomyopathy (87%) and café au lait spots (75%). Our patients presented with both classic dermatological and cardiac features. Of note, HCM remains the most frequent cardiac manifestation of NSML, detected in up to 80% of the patients. Simultaneously, the incidence of HCM is the highest among all the RASopathies. Most patients are generally asymptomatic at the early stage of the disease; however, clinical symptoms are gradually significant during adulthood when disease progresses. Most importantly, it may develop left ventricular outflow obstruction and fatal arrhythmia. With consideration into primary prevention of sudden cardiac death, periodic echocardiography assessment should be indicated for all NSML patients.Approximately 95% of NSML is caused by mutations in 3 loci, including PTPN 11 gene on chromosome 12q24, the RAF1 gene on chromosome 3p25.2 and the BRAF gene on chromosome 7q34. Approximately 85% of NSML is related to PTPN11 gene mutation, which is most detected on exons 7, 12, and 13. The clinical features may be dependent on different exon mutations. For example, exon 7 and 12 mutations are associated with HCM, while exon 13 mutations are associated with SCD.
Conclusion
This family clinical case highlights the cutaneous and cardiac features of different stages of NSML, including childhood, adulthood and elderhood and the importance of early cardiovascular assessment of patients with NSML to minimize the risk of sudden cardiac death caused by hypertrophic cardiomyopathy. Clinical evaluation and genetic testing of family relatives' is highly advisable and when appropriate, prenatal testing should be considered.

Leave Comments