Lots of interesting abstracts and cases were submitted for TCTAP 2023. Below are the accepted ones after a thorough review by our official reviewers. Don't miss the opportunity to expand your knowledge and interact with authors as well as virtual participants by sharing your opinion in the comment section!
TCTAP A-019
Indications and Outcome of Primary PCI Without Stent
By Muhammad Andi Yassiin, Rajinikanth Rajagopal, Keyvan Kamalvand
Presenter
Muhammad Andi Yassiin
Authors
Muhammad Andi Yassiin1, Rajinikanth Rajagopal1, Keyvan Kamalvand1
Affiliation
Gleneagles JPMC, Brunei Darussalam1
TCTAP A-019
Acute Coronary Syndromes (STEMI, NSTE-ACS)
Indications and Outcome of Primary PCI Without Stent
Muhammad Andi Yassiin1, Rajinikanth Rajagopal1, Keyvan Kamalvand1
Gleneagles JPMC, Brunei Darussalam1
Background
Primary percutaneous coronary intervention (PPCI) is the gold standard of treatment for restoring coronary flow and dealing with underlying stenosis in the culprit lesion acute ST-elevation MI (STEMI). PPCI usually includes stent implantation, however, there are some situations where a stent is not needed or best avoided. In patients with severe multivessel disease who need urgent CABG, placing a stent might lead to a delay in CABG because of the need for dual antiplatelet therapy. In patients who do not achieve TIMI 3 flow because of heavy thrombus burden, stent insertion may not be ideal, and they are often treated with intravenous antiplatelets or anticoagulants. A stent might be not needed if an adequate result is obtained with balloon angioplasty, drug-coated-balloon (DCB) or just aspiration thrombectomy. There is limited literature about these patients and concerns remain about the safety of these patients in the immediate post-PPCI period while they are undergoing medical treatment and waiting for further intervention. The aim of the study is to identify the indications for performing PPCI with no stent and to study the outcomes of these patients during their hospital stay and at 30 days after discharge.
Methods
Methods:
We performed a retrospective analysis of consecutive Primary PCI procedures between January 2019 and December 2021. The data was collected from the hospital's PCI database and from review of the patient notes. Further follow-up information was obtained from Bru-HIMS (Brunei Darussalam Healthcare Information and Management Systems), which is the national health information system.
Once we identified patients who underwent PPCI with no stent, we classified them into 4 groups, based on the indication for not placing a stent:
Patients who need further treatment, including pharmacotherapy or further revascularisation:
1. MVD referred for urgent CABG2. TIMI 0-2 flow and/or heavy thrombus burden
Patients who have been treated completely and do not need further specific treatment
3. No-residual stenosis after aspiration + POBA4. POBA/DCB as primary strategy
For group 1 patients with MVD, we collected data on further treatment including CABG, PCI or medical treatment.
For group 2 patients, we collected data on relook angiograms and further intervention.
For all groups, we collected data on adverse outcomes, including death, non-fatal MI, stroke and unplanned revascularization, both during hospital admission and post procedure at 30 days.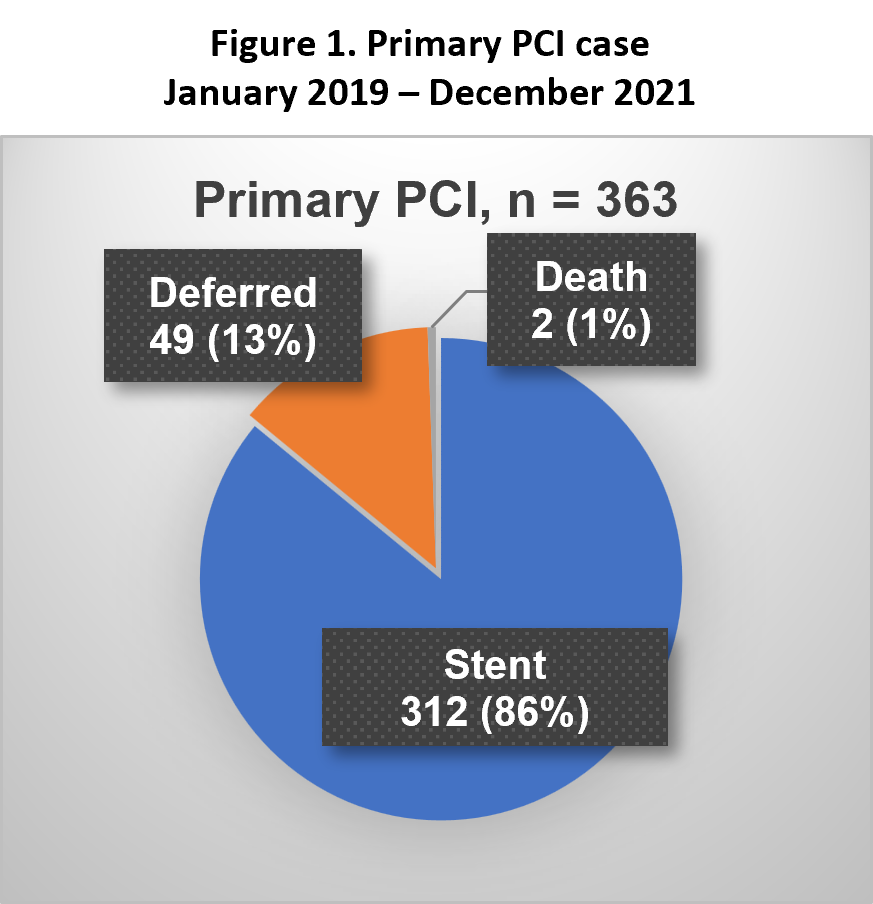 Results
Results:
363 patients underwent PPCI between Jan 2019 and Dec 2021, Of these, 49 patients (13%) did not have a stent. The indications were as follows: 1. MVD referred for urgent CABG 112. TIMI 0-2 flow and/or heavy thrombus burden 11 3. No-residual stenosis after aspiration ± POBA 10 4. POBA/DCB as primary strategy 17
1. MVD referred for urgent CABGOf these 11 patients, 8 patients had CABG as in-patient. One patient had urgent CABG the day after PPCI, and the overall average waiting time was 5.7 days.One patient had PCI as in-patient, after refusing CABG. Two patients had CABG as out-patient. One was done at 13 days after index procedure, 9 days after discharge and the other at 31 days after index proc, 18 days after discharge.None of the patients needed unplanned revascularisation at any time. One patient died of a vascular complication following CABG.
2. TIMI 0-2 flow and/or heavy thrombus burdenOf these 11 patients, 8 had a re-look angiogram. Of these, 5 had further PCI including aspiration thrombectomy, balloon angioplasty and stent placement, 1 had PCI to bystander lesion and the other 2 patients did not need further intervention and only needed medical treatment. The other 3 patients were managed with pharmacotherapy and discharged home with a plan for re-look angiogram as out-patient. The decision on re-look angiogram and the timing was based on operator discretion and individual patient characteristics.
3. No-residual stenosis after aspiration + POBAIn this group 2 patients had just aspiration thrombectomy, 3 patients had just POBA, and 3 patients were treated with DCB. Based on good angiographic results, a stent was deemed to be not necessary. One patient died in this group, although we restored TIMI 3 flow during PPCI but the patient's condition was already poor on arrival with KILLIP IV and intubated.
4. POBA/DCB as primary strategyThe indications for using POBA/DCB as the primary strategy included:Stent thrombosis and In-Stent Restenosis 12Ectatic vessel with size mismatch 3Small vessel 3Ostial lesion 1All these patients had satisfactory result with POBA/DCB.
Conclusion
The study has shown that in selected patients, PPCI without a stent is a reasonable treatment option with good outcomes.
In patients with multivessel disease, this allows interruption of DAPT within a few days after the PPCI and CABG can be performed safely without a high bleeding risk. With a good result in the culprit vessel, the patients remained stable during the waiting period for surgery without the need for urgent repeat PCI.
In patients with poor TIMI flow and/or heavy thrombus burden, stent insertion is not always recommended. Although there are no clear recommendations for the optimal management of these patients, a period of intravenous Gp2b3a inhibitor and Heparin, followed by a combination of anticoagulation and antiplatelets is usually practiced to treat the thrombus. The timing of relook angiogram is also variable. In this study, most patients remained well on medical treatment whilst awaiting relook angiogram.
This is a small single-centre retrospective study. A larger multicenter registry could help expand our understanding and advise our practice.
Leave Comments