Lots of interesting abstracts and cases were submitted for TCTAP 2022. Below are the accepted ones after a thorough review by our official reviewers. Don't miss the opportunity to expand your knowledge and interact with authors as well as virtual participants by sharing your opinion in the comment section!
TCTAP A-087
Effect of Pre-procedural Transdermal Nitroglycerin Patch on Diameter of Distal Radial Artery in Anatomical Snuffbox
By Wongwaris Aphijirawat
Presenter
Wongwaris Aphijirawat
Authors
Wongwaris Aphijirawat1
Affiliation
Queen Sirikit Naval Hospital, Thailand1
TCTAP A-087
Vascular Access (Transradial)
Effect of Pre-procedural Transdermal Nitroglycerin Patch on Diameter of Distal Radial Artery in Anatomical Snuffbox
Wongwaris Aphijirawat1
Queen Sirikit Naval Hospital, Thailand1
Background
BACKGROUND : Anatomical snuffbox approach has recently increasing performed with high success rate and less radial artery occlusion. There are numerous advantages of snuffbox approach over radial approach such as less prone to hand ischemia, patient can move the wrist after procedure and snuffbox approach give an advantage for preserve radial artery in the future operation as in ESRD or CABG patients.The important factor that can predict the successful and complication rate is vessel diameter. Distal radial artery has a small size, result in limited of more complex procedure for this access. We studied the effect of pre-procedure transdermal patch nitroglycerin application on the vessel diameter of distal radial artery in anatomical snuffbox.

Methods
METHODS : We conducted a experimental prospective study design to assess the change of vessel diameter after transdermal nitroglycerin patch in 2 centers in Thailand (Phramongkutklao and Queen Sirikit Naval Hospital). Inclusion criteria and exclusion criteria were shown in figure.Vascular ultrasound (12 to 4Mhz, Lumify L12-4 broadband liner array transducer, Philips) was used to measure the diameter of radial artery in anatomical snuffbox at the level of scaphoid and trapezium bones fusion, radial artery diameter at level of 1 inch below radial styloid bone, ulnar artery diameter at the same level of radial artery. Definition of vessel diameter was defined as the distance between tunica media layers in longitudinal view and the diameter was recorded in blinded manner. Nitroglycerin transdermal patch (5 cm2) is applied at anatomical snuffbox area in the intervention hand for 10 minutes.After completion, we repeat measurement of vessel diameter at the same level and record the result. During nitroglycerin transdermal patch is applied, the vital sign would be recorded every 5 minutes and monitor the side effects of the medication such as headache,dizziness, hypotension or tachycardia. If side effects occur, the transdermal patch would be removed immediately and continued monitored until the patient feel better.Vessel diameter pre- and post-transdermal nitroglycerin patch application, side effect, hand anthropometric data will be recorded.The primary outcome measured by different in diameter of distal radial artery in anatomical snuffbox. The secondary endpoint is the different in diameter of radial, ulnar and distal radial arteries and mean diameter of these vessel in Thai population.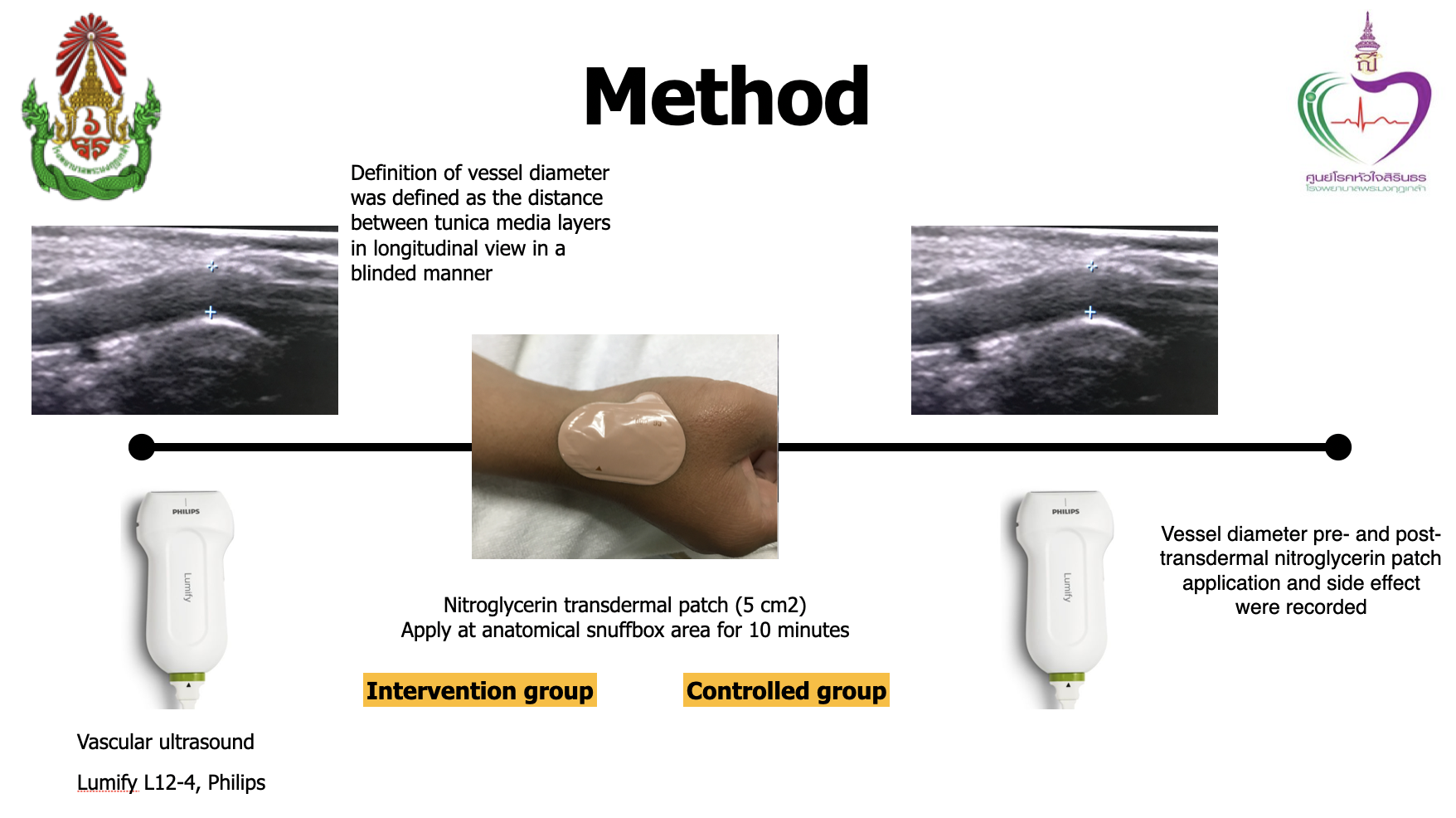 Results
A total of 100 patients were enrolled in this study. Baseline characteristics showed that the mean age was 63.4 years old and 71% were men. Mean blood pressure was 130/74 mmHg.Most underlying diseases were hypertension (63%), dyslipidemia (56%), coronary artery disease (12%) and Type 2 diabetes mellitus (27%)After nitroglycerin transdermal patch was applied at anatomical snuffbox for 10 minutes, the vessel diameter was statistically significantly increased from 2.06 ± 0.31 to 2.37 ± 0.32 mm (Mean difference (95% CI) +0.31(0.27,0.35), p<0.001) when compared to the non-applicable hand. We can say that after transdermal nitroglycerin application, the vessel diameter at snuffbox radial artery was increased about 1Fr sheath size.The mean diameter of anatomical snuffbox radial artery, radial artery, ulnar artery and distal radial artery were 2.06 ± 0.31, 2.34 ± 0.37, 2.09 ± 0.38, 1.87 ± 0.29 mm, respectively.
The primary location that we applied the NTG patch at snuffbox area which is the area that had a maximum change of vessel diameterand the effect of NTG was spread to the other site in step up gradient manner. The side effect such a hypotension or headache was also no demonstrated in this trial. So, we concluded that it may be from the local vasodilator effect of transdermal NTG when applied in short period of time.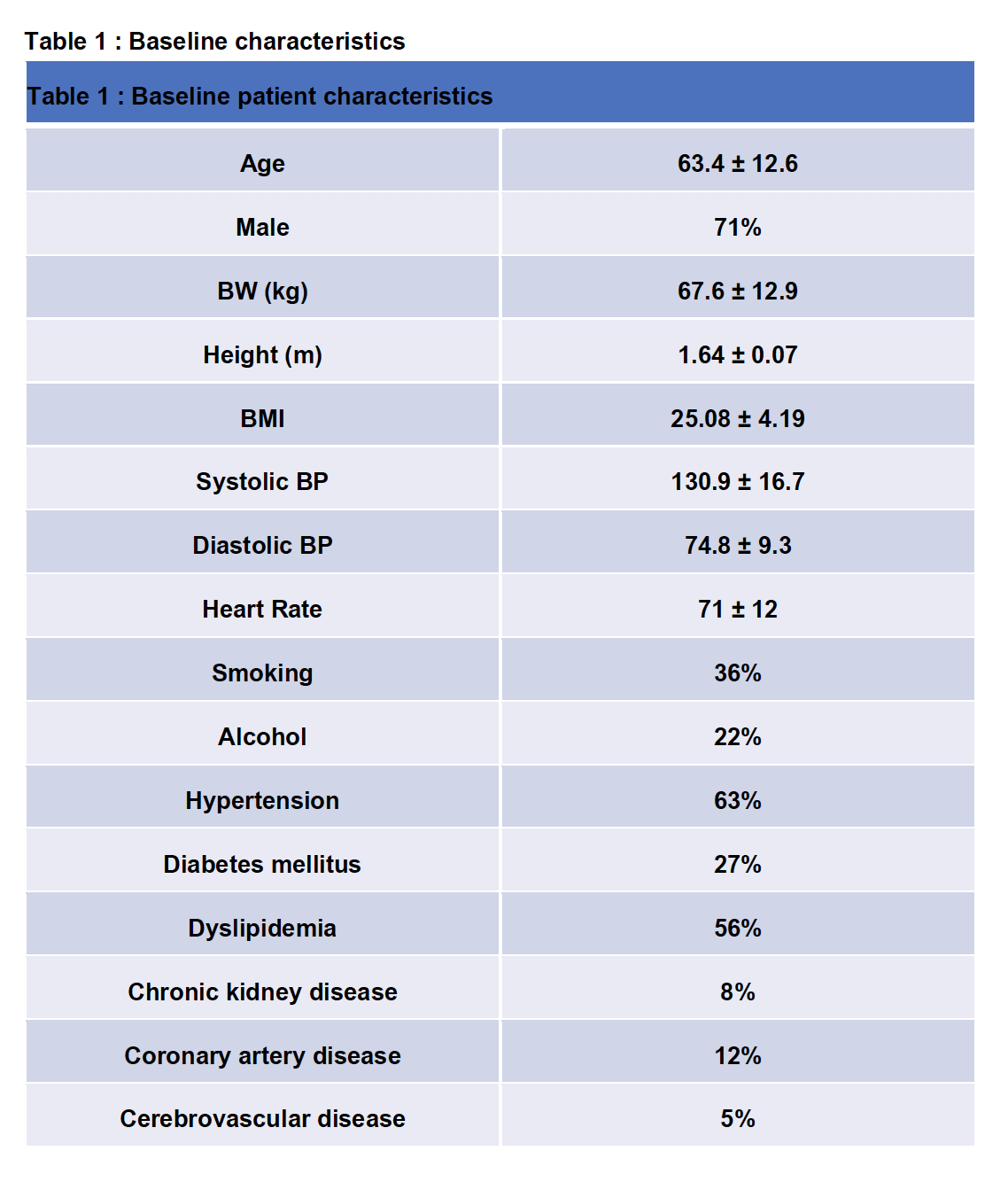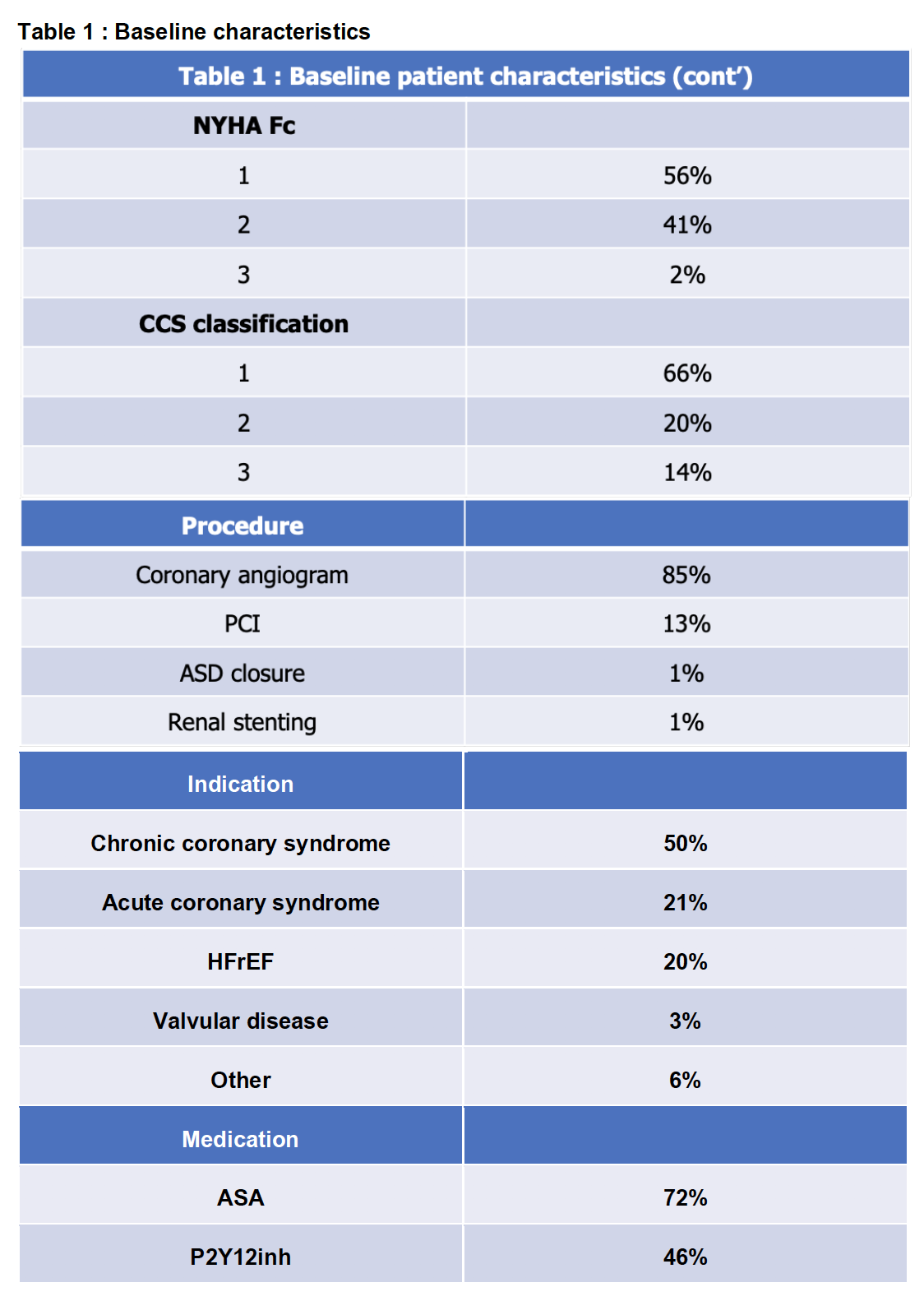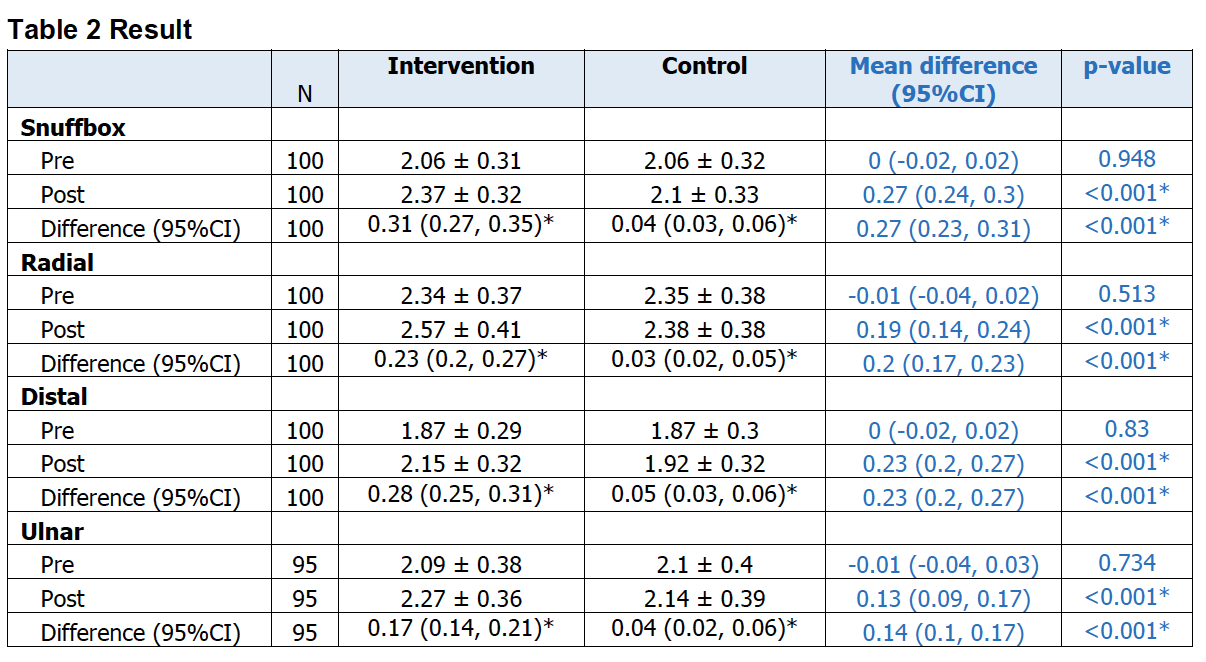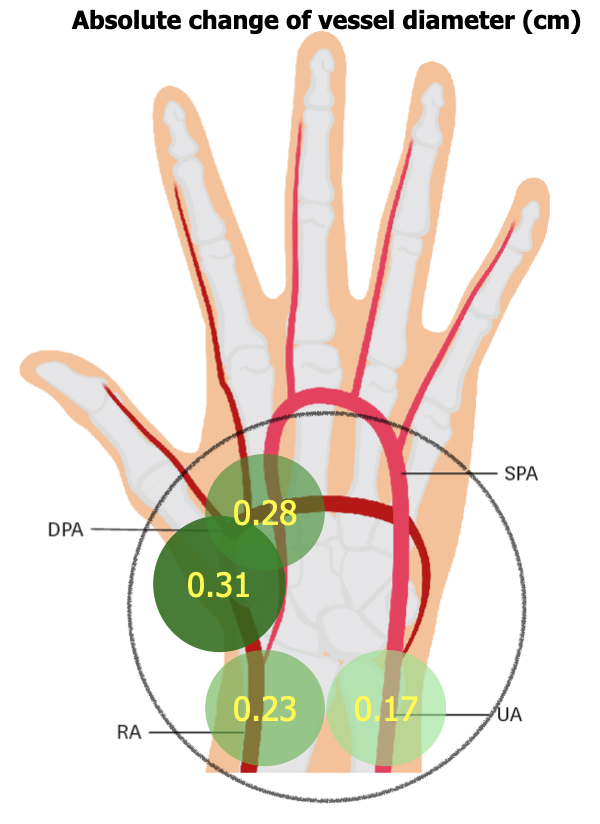 Conclusion
Clinical applicationBefore NTG patch application, the vessel diameter is compatible with outer diameter of 5/6F Slender sheath (Terumo) about 30%.After NTG patch application, the size of vessel increases and compatible with 5/6F Slender sheath for 70% and 6/7F Slender sheath for 40%. Thus, the sheath to artery ratio would less than one and it may reduced the risk of arterial occlusion. Also, the larger sheath size can be used for more complex procedure via the snuffbox approach.
CONCLUSION : The transdermal NTG patch at the distal radial artery in anatomical snuffbox significantly increase the size of vessel diameter and could introduce a more complex percutaneous coronary intervention via this approach. Administration of transdermal NTG preprocedure is safe.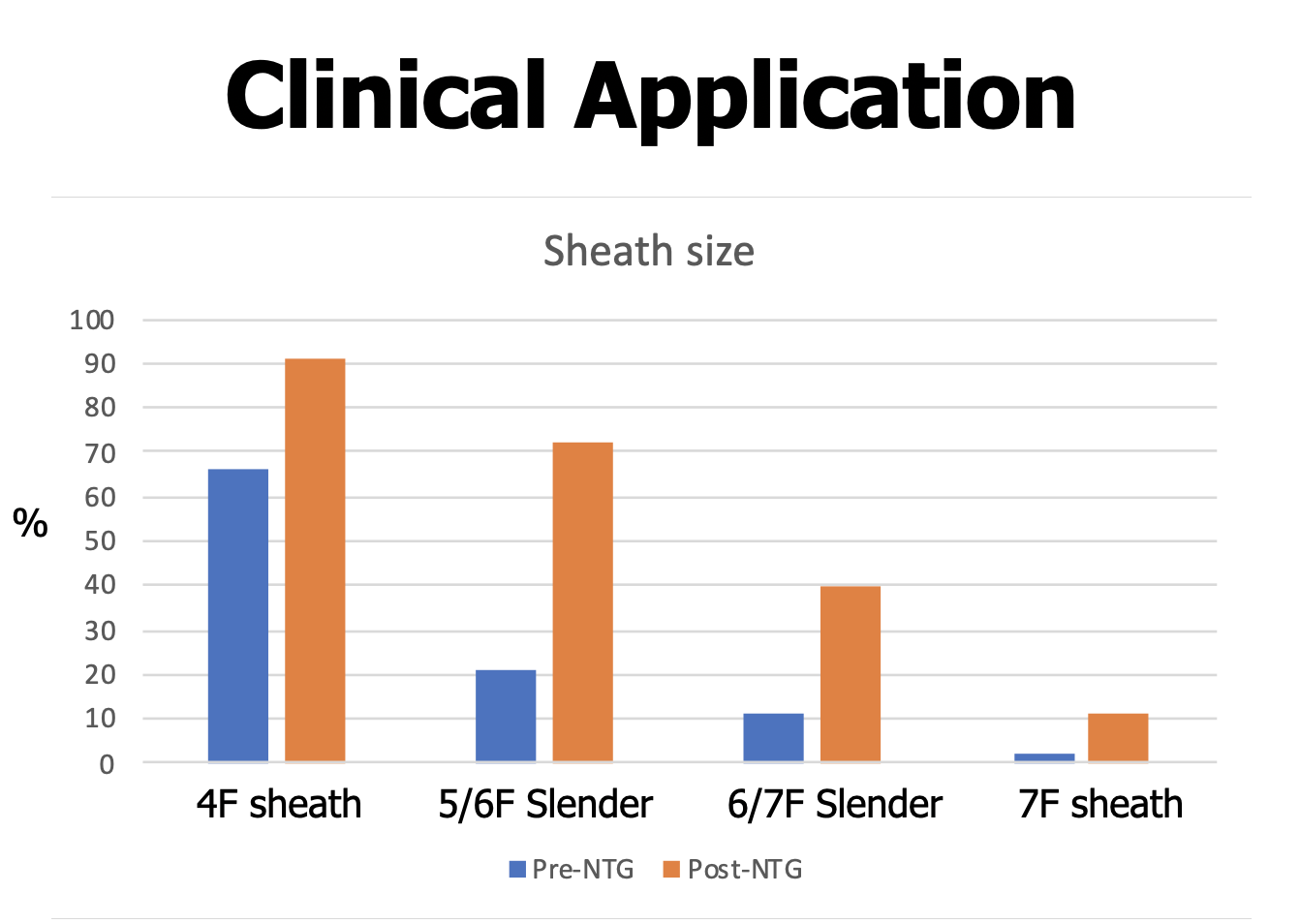 Leave Comments
Fathima Aaysha Cader
(Ibrahim Cardiac Hospital & Research Institute)
Apr 29, 2022
SUper-interesting work!