Despite the worldwide growth in TAVI, establishing a standard antithrombotic regime for Post-Transcatheter Aortic Valve Replacement (TAVR) has remained an unresolved clinical question due to large variations in clinical practice and controversies.
Traditionally, in the absence of clear indications of oral anticoagulation (OAC) for certain patient groups - for example, atrial fibrillation and existing mechanical valve prosthesis - operators would most often adopt the dual antiplatelet (DAPT) regime for three to six months, followed by lifelong, single antiplatelet (SAPT).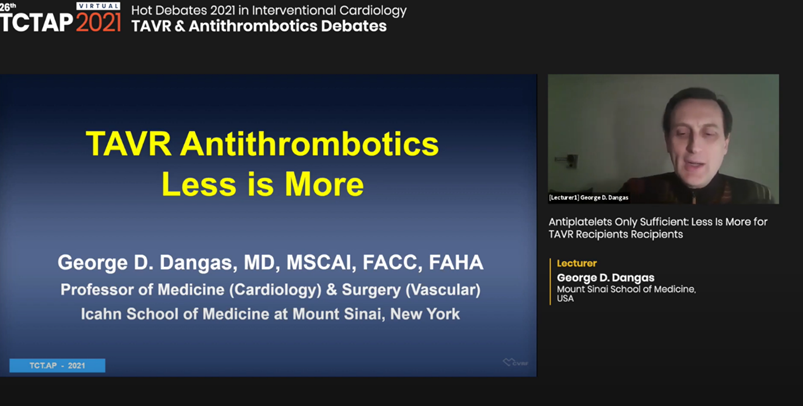 George D. Dangas, MD, PhD (Mount Sinai School of Medicine, New York, USA) presented the concept of "Less is More" for TAVR antithrombotics during the Hot Debate session at TCTAP 2021 Virtual.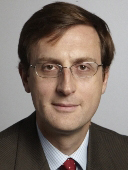 Data from BRAVO-3, ARTE and POPular-TAVI (Cohort A) trials consistently showed the SAPT regime was better than DAPT as additional clopidogrel did not improve ischaemic outcome but caused more bleeding, highlighting the concept of less is more.
Due to bleeding concerns, together with the doubts regarding the additional benefit of DAPT compared to SAPT, the American College of Cardiology (ACC) and the American Heart Association (AHA) updated the 2020 ACC/AHA Guidelines on Management of Patients with Valvular Heart Disease to recommend SAPT after TAVR (Class IIa) and DAPT only when the patients are categorized as low bleeding risk (Class IIb).
Similarly, POPular-TAVI (Cohort B) results showed that for patients on already on OAC, adding clopidogrel caused more bleeding without additional ischaemic benefit.
Subclinical leaflet thrombosis, or hypo-attenuating Leaflet Thickening (HALT) as detected by multi-detector computed tomography (MDCT) imaging, posed the question of whether drug regime involving OAC would be superior to antiplatelet therapy.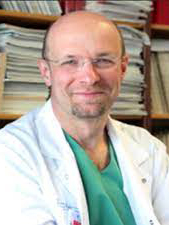 Jean-Philippe Collet, MD (Pitié-Salpêtrière Hospital, France) emphasized the pathophysiology of prosthetic leaflet thrombosis involves multiple mechanisms - the Antiplatelet Hypothesis and the Antithrombin Hypothesis.
"An in-depth mechanistic understanding of the pathobiology of thromboembolic events in association with TAVR is essential to provide a translational foundation for therapy optimization," Collet said.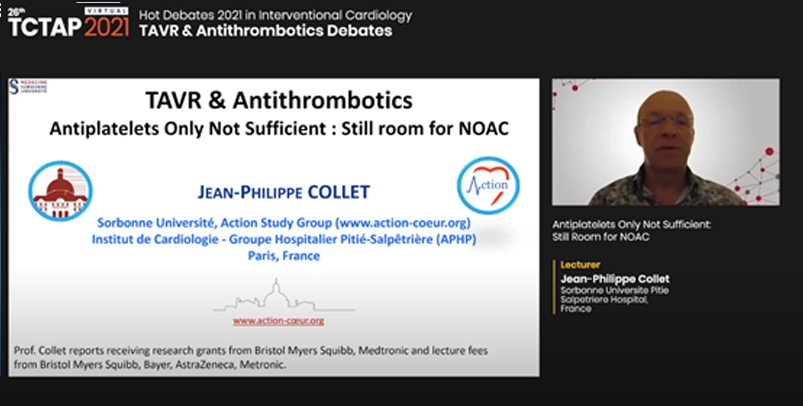 The clinical data comparing NOAC and anti-platelet regime however has been so far disappointing.
The GALILEO study, for instance, showed unexpected increased bleeding and mortality in the adjusted dose rivaroxaban (10mg daily) arm compared to the antiplatelet arm.
Although researchers observed effectiveness in preventing subclinical reduced leaflet motion from 4D-CT, this was not translated into improvement in clinical outcomes.
The ATLANTIS study also compared an apixaban-based strategy versus the standard-of-care strategy to reduce the risk of post-TAVR thromboembolic and bleeding complications in an all-comer population. NOAC as standard-of-care post-TAVR are yet to be evaluated by further clinical data and require further comprehensive randomized control trials.
The expert panel discussed other related issues such as the effect of different dosage on NOAC on outcome, potential age-stratified post TAVR antithrombotic strategies, supra- vs. intra-valvular TAVR device design in relation to HALT, and potential alternative imaging options for leaflet assessment, among others.
Editor: Cheung Chi Simon Lam, MD (Queen Mary Hospital, Hong Kong, China)