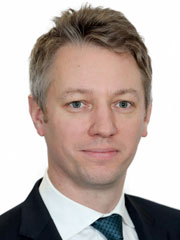 Robert A. Byrne, MD (Cardiology at the Mater Private Hospital, Dublin) presented the session titled "Future of PCI: Indication, Technology, Outlook," that was moderated by Spencer B. King III, MD (Emory University, Atlanta, GA) - known as the founding father of interventional cardiology and the founding editor-in-chief of JACC Interventions.
The advent of drug-eluting stents and advances in pharmacotherapy has transformed PCI from a sidelined stenting procedure to a state-of-the-art treatment for obstructive coronary artery disease.
Contemporary stent platforms deployed under imaging guidance further produced optimal clinical outcomes in even complex subsets such as the left main and chronic total occlusions (CTO).
Against this backdrop of continual growth, Byrne predicted technological and procedural advances would further propel PCI to new heights.
"Although metal platforms remain the gold standard in treating obstructive coronary lesions, next-generation bioresorbable scaffolds with thinner struts and faster degradation rates with sufficient radial strength are anticipated to return in clinical practice, serving as a therapeutic alternative to metal stents in certain lesion subsets," Byrne said.
"Drug-coated balloons, which have shown promising results in de novo lesions, are expected to pull through in larger randomized trials to support wider clinical applicability," he added.
Continual Evolution in History of Coronary Interventions
The first successful balloon angioplasty was performed by Andreas Gruentzig, MD in September 16, 1977 - establishing the birth of interventional cardiology as a new sub-specialty in cardiology.
However, dissections and acute closures were leading causes of procedural failure in balloon angioplasties, spurring the development of coronary stents and fostering innovation in the field.
The first use of coronary stents is attributed to interventional cardiology pioneers Jacques Puel, MD (Rangueil Hospital, France) and Ulrich Sigwart, MD (University of Geneva, Switzerland) and - thanks to continual advances in the field - the wide clinical applicability of coronary stents was propelled by several large randomized trials.
One such trial was the BENESTENT trial, lead by Patrick Serruys, MD (NUI Galway, Ireland), that demonstrated stent superiority in clinical and angiographic outcomes compared to standard balloon angioplasty.
The addition of optimal pharmacotherapy combined with stent platform innovations that allowed for more biocompatible designs with thinner struts also helped PCI grow to become one of the most commonly performed medical procedures worldwide.
Dawn of the Drug-Eluting Stent Era
Current generation drug-eluting stents (DES) deployed with imaging guidance are able to achieve optimal post-procedural mean stent area in the absence of significant edge dissections, ultimately minimizing the risk of target lesion failure and stent thrombosis.
The combination of DES with imaging guidance has become important in more complex anatomic territories such as the left main, where PCI has been shown to be an excellent alternative to coronary artery bypass grafting (CABG) when performed by experienced operators with imaging-guidance in low- and intermediate- anatomic complexity subsets.
However Byrne cautioned that PCI - even with newer generation DES - may result in suboptimal outcomes for diabetic patients.
"PCI should be avoided especially in diabetic patients with increased anatomic complexity such as multi-vessel disease and distal left main bifurcations of MEDINA 1,1,1 distribution," he said.
Bioresorbable Technologies that "Leave Nothing Behind"
Although polymer-based bioresorbable technologies demonstrated encouraging results in preclinical and first-in-man studies with complete biodegradation at three to five years, randomized trials have also indicated a three-fold increase in thrombotic events.
Problems of strut fracture, underexpansion and neoatherosclerosis novel modes of failure, such as intraluminal scaffold dismantling, also cropped up, to compound traditional issues related to polymer-based bioresorable technologies that lead to stent failure such as late strut malapposition, Subsequently, the first-generation scaffolds were terminated by the U.S. Food and Drug Administration (FDA) with other regulatory agencies following suit, leaving only magnesium-based scaffolds in the market.
Against this background, the development of next-generation polymer-based scaffolds with thinner strut profiles and faster biodegradation rates has kept the promise of the so-called "vascular reparative therapy" alive.
In the context of "leaving nothing behind" drug-coated balloons are used increasingly more not only for the treatment of in-stent restenosis but also for de-novo lesions.
Drug-coated balloons require meticulous attention regarding the angioplasty technique, short dwell time in the guide, circulation, and comfort with a "less than perfect" non-stent-like result including residual dissections that tend to heal well with time.
Preliminary observations from randomized trials have shown encouraging results. However, further evidence from randomized trials are required to support their wider clinical applicability.
Strides and Lessons - from Imaging to ISCHEMIA
Optimal lesion preparation, which remain instrumental in achieving optimal stent expansion, were facilitated tremendously by novel technologies such as scoring and cutting balloons as well as the application of intravascular lithotripsy in heavily calcified lesions (calcium arch >270 degrees).
Intravascular imaging with either intravascular ultrasound (IVUS) or optical coherence tomography (OCT) that are used widely in East Asia - as opposed to Europe and the US - have also become mandatory when treating complex lesions.
In addition to the strides in imaging, findings from the ISCHEMIA trial provided a rationale for physician-patient shared decision making with respect to initial management strategy.
"ISCHEMIA trial results have shown us that the initial management strategy should incorporate three key elements that include the patients' symptom burden and quality of life, reduction in spontaneous MI, and life expectancy," Byrne said. "Also, we have found that ischemic burden alone is no longer a reasonable basis to guide revascularization decisions."
Fig 1: The first balloon angioplasty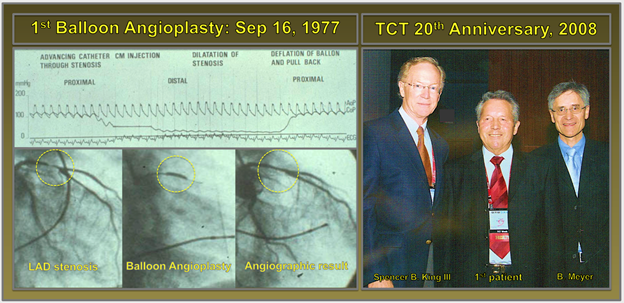 The 1st balloon angioplasty was performed by Andreas Gruentzig in September 16, 1977 in Zurich on a 42-year old Adolph Bachman, who had a proximal LAD stenosis that was successfully dilated. During the 20th anniversary of TCT meeting, Adolph Bachman shared his experience with Spencer B. King III and Bernie Meyer.
Editor: Bill (Vasileios) Gogas (Gkogkas), MD (Nanjing First Hospital, China)