"Functional MR is actually heart failure management," Kapadia said. "Underlying problems such as atrial fibrillation (AF), coronary artery disease (CAD) and conduction abnormalities that cause heart failure in patients should be managed. Transcatheter or surgical treatment of functional MR should be considered after optimal medical therapy."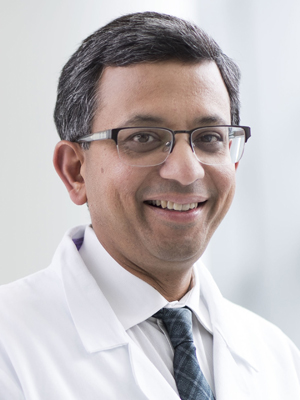 Kapadia focused on four main treatment considerations, including different types of functional MR, clinical significance and severity of the disease, and related treatment options.
Types, clinical significance, severity, and options for functional MR
Functional MR etiology is related to dysfunction of left atrium and/or left ventricle and/or mitral annulus without an adequate compensatory change in the mitral valve leaflets.
"Restriction of mitral leaflets by the left atrium and/or left ventricle as well as dilatational of mitral annulus can all induce functional MR with a structurally "normal" mitral valve," Kapadia said.
The significance of functional MR, he continued, depends greatly on the severity of MR, function of the left atrium and function of the left ventricle. "Good candidates for functional MR treatment are those with severe MR but good left atrium and left ventricle function," Kapadia said.

In addition to objective echocardiography (ECG) measurements, holistic assessment of the patient to evaluate the severity of functional MR was also highlighted.
"Assessment should include proper clinical history taking, full assessment of the mitral valve anatomy and function, as well as detail status of left atrium, left and right ventricles, Kapadia said. "Patients' response to exercise and treatment should also be considered." Kapadia highlighted the components that form comprehensive assessment, summing it up as "the art of medicine."
Upon assessing the patient, the clinician must choose among several treatment options.
Various medical devices such as ICD and CRT are possible options for heart failure, hence also serve as therapeutic options for functional MR.
The European Society of Cardiology (ESC) as well as the American Heart Association and American College of Cardiology (AHA/ACC) guidelines currently recommend surgical repair for functional MR as a Class IIb recommendation (level of evidence, C) and the transcatheter approach upon failure of medical therapy.
"The most popular option in the U.S. for functional MR is the MitraClip," Kapadia said. "Patient selection and procedural skill are the main factors for achieving good clinical outcomes in transcatheter-based therapy, which are important considerations when analyzing the results of functional MR trials."
Presenting a patient case illustrating the use of Mitraclip in functional MR management, Kapadia outlined key aspects of echocardiography assessments using the TTE Echo, 3D Echo & MPR before Mitraclip implant and wrapped up the session with thoughts and tips on how to place a second Mitraclip and evaluation of the success of Mitraclip implantation.
Editor: Ho Lam, MD (Tuen Mun Hospital, Hong Kong, China)