Lots of interesting abstracts and cases were submitted for TCTAP 2021 Virtual. Below are accepted ones after thoroughly reviewed by our official reviewers. Don't miss the opportunity to explore your knowledge and interact with authors as well as virtual participants by sharing your opinion!
TCTAP C-001 . Presentation
Presenter
Doreen Sumpat
Authors
Doreen Sumpat1, Benjamin Leo Cheang Leng2
Affiliation
Hospital Sultanah Aminah, Malaysia1, Columbia Asia Hospital Tebrau, Malaysia2,
TCTAP C-001
CORONARY - Acute Coronary Syndromes (STEMI, NSTE-ACS)
A Roller Coaster Ride: NSTEMI and Recurrent Angina After Coronary Artery Bypass in a Young Patient
Doreen Sumpat1, Benjamin Leo Cheang Leng2
Hospital Sultanah Aminah, Malaysia1, Columbia Asia Hospital Tebrau, Malaysia2,
Clinical Information
Patient initials or Identifier Number
LKL
Relevant Clinical History and Physical Exam
LKL is a 41-year-old man, an active smoker 10 packs year was thrombolysed for anterior STEMI on 29th September 2017. It was complicated with apical clot and an episode of ischemic stroke that occurred within a week of STEMI, which he recovered fully neurologically. He did not have other comorbidities and quit smoking instantly.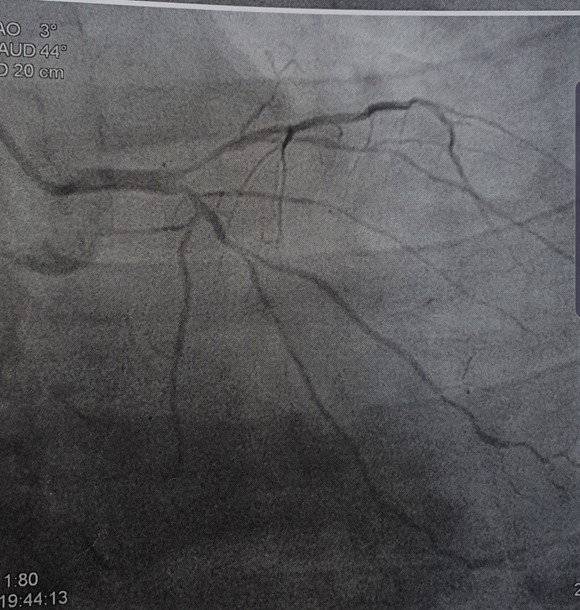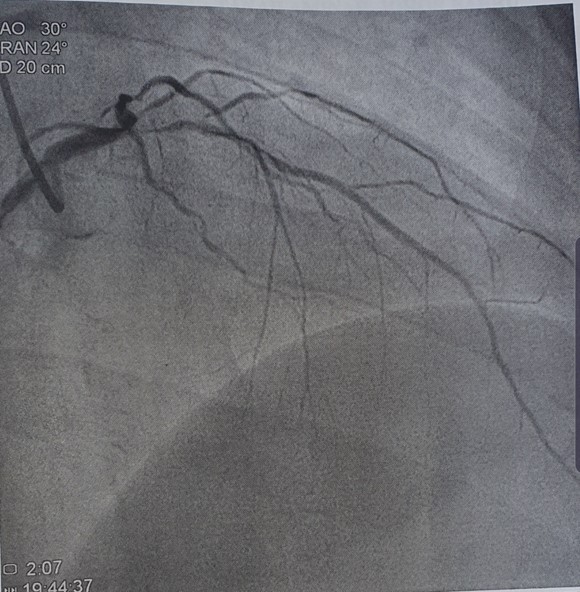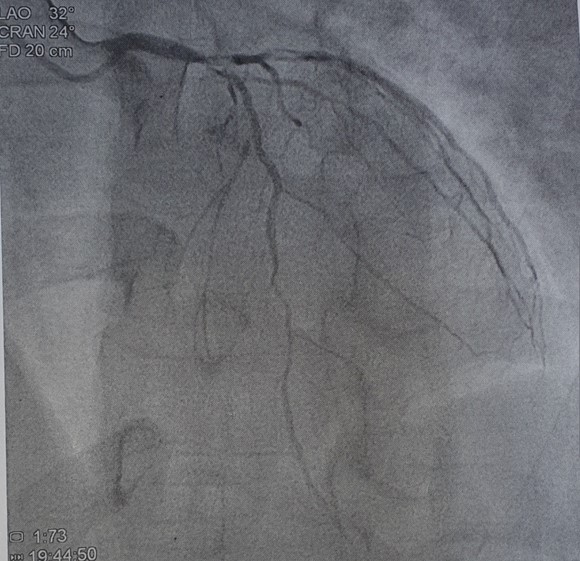 Relevant Test Results Prior to Catheterization
He had undergone CABG on 20th August 2018 with RSVG to PDA and OM2; and LIMA to LAD. It was done in view of severe lesion at ostial to proximal LAD and ostial to proximal LCA. There was also significant lesion at mid and distal RCA. His LVEF was 50% prior to surgery. Unfortunately, he was readmitted six months later for NSTEMI with history of recurrent exertional angina that limits his physical activity. His LVEF was reduced to 40% - 45% with hypokinesia at LAD territory
.

VideoLKL9.avi

VideoLKL10.avi

VideoLKL101.avi
Relevant Catheterization Findings
Coronary angiogram and graft study were done. It was revealed that all three grafts were patent. However, there was significant worsening of disease at native LAD and LCX that involve the site of graft anastomosis. There was chronic total occlusion of ostial LAD with 70 - 80%disease at distal LAD and at site of LIMA anastomosis. LCX had severe diffuse disease with 80 - 90% at site of RSVG anastomosis.

VideoLKLPCI3.avi

VideoLKLPCI6.avi

VideoLKLPCI8.avi
Interventional Management
Procedural Step
Due to recurrent exertional angina and deterioration of left ventricular function, a heart meeting was done with cardiothoracic team. It was decided for percutaneous coronary intervention at diseased native arteries as all grafts were patent. Procedure was done via dual femoral artery puncture. 6Fr XBguiding catheter was engaged to left coronary artery system via left femoral artery. 6 Fr JR4 diagnostic catheter was engaged to RSVG - OM2 via right femoral artery. LCX was intervened as the disease at graft anastomosis site was more severe. Contrast injected into RSVGfollowed by contrast into left coronary artery system. RunThrough Intermediatewire was wired into tight LCX lesion with balloon Emerge 1.5 x 12mm as balloon support. Predilatation was done with the same balloon from distal to proximal native LCX. The size and TIMI flow in LCX improved. Therefore, further predilatation was done with bigger balloon Emerge 2.0 x 15mm from distal to proximal LCX. Drug-eluting balloon SeQuent Please NEO 2.5 x 20mm was deployed at distal LCX across RSVG anastomosis site at nominal pressure for 60sec. The end result was good with TIMI 3 flow and no dissection at LCX especially at site of RSVG anastomosis.

VideoLKLPCI3.avi

VideoLKLPCI7.avi

VideoLKLPCI8.avi
Case Summary
The disease at native vessels had progress rapidly and involved site of graft anastomosis. This had caused ACS event and symptomatic exertional angina despite underwent CABG less than a year. Treating the severe disease only at distal segment that involve graft anastomosis site with drug eluting balloon able to improve TIMI flow distal to graft. This also avoid risk of stent strut covering the anastomoticsite of the graft. The graft patency remains patent as proximal to mid LCX was not treated with stent or drug eluting balloon. Management, decision-making and technical approach to the LAD - LIMA is remain tricky. He is symptoms free now and awaiting myocardial viability scan.
Leave Comments
TCTAP 2021 Virtual
Apr 12, 2021
Great case study! It's very interesting and educational.