Lots of interesting abstracts and cases were submitted for TCTAP 2021 Virtual. Below are accepted ones after thoroughly reviewed by our official reviewers. Don't miss the opportunity to explore your knowledge and interact with authors as well as virtual participants by sharing your opinion!
TCTAP C-056 . Presentation
Presenter
Kumutha Gobal
Authors
Kumutha Gobal1, Hou Tee Lu1, Adelyn Nisha Henry1, Heng Shee Kim1, Kim Fong Ng1, Tee Choon Keong1, Vicknesan Kulasingham1, Mahadevan Gurudevan1, Chuey Yan Lee1
Affiliation
Hospital Sultanah Aminah, Malaysia1,
TCTAP C-056
CORONARY - Complex and Higher Risk Procedures for Indicated Patients (CHIP)
Triple Vessel Coronary Artery Disease Involving Distal Left Main, CTO LAD, and Ostial LCX in An Elderly Patient : Challenges and Strategy
Kumutha Gobal1, Hou Tee Lu1, Adelyn Nisha Henry1, Heng Shee Kim1, Kim Fong Ng1, Tee Choon Keong1, Vicknesan Kulasingham1, Mahadevan Gurudevan1, Chuey Yan Lee1
Hospital Sultanah Aminah, Malaysia1,
Clinical Information
Patient initials or Identifier Number
JA
Relevant Clinical History and Physical Exam
A 76 years old gentleman, with cardiovascular risk factor of hypertension and an ex-smoker. He had a history of NSTEMI in April 2018. Clinically, he is in NYHA class II and CCS class II. His physical examination was unremarkable.
Relevant Test Results Prior to Catheterization
Hb: 13g/dLCreatinine: 98µmol/LECG: Q wave in III, aVF, T inversion in I, aVL, V4-V6ECHO: LVEF 50-55%, mild hypokinesia over the septal and inferior wall with functional valves.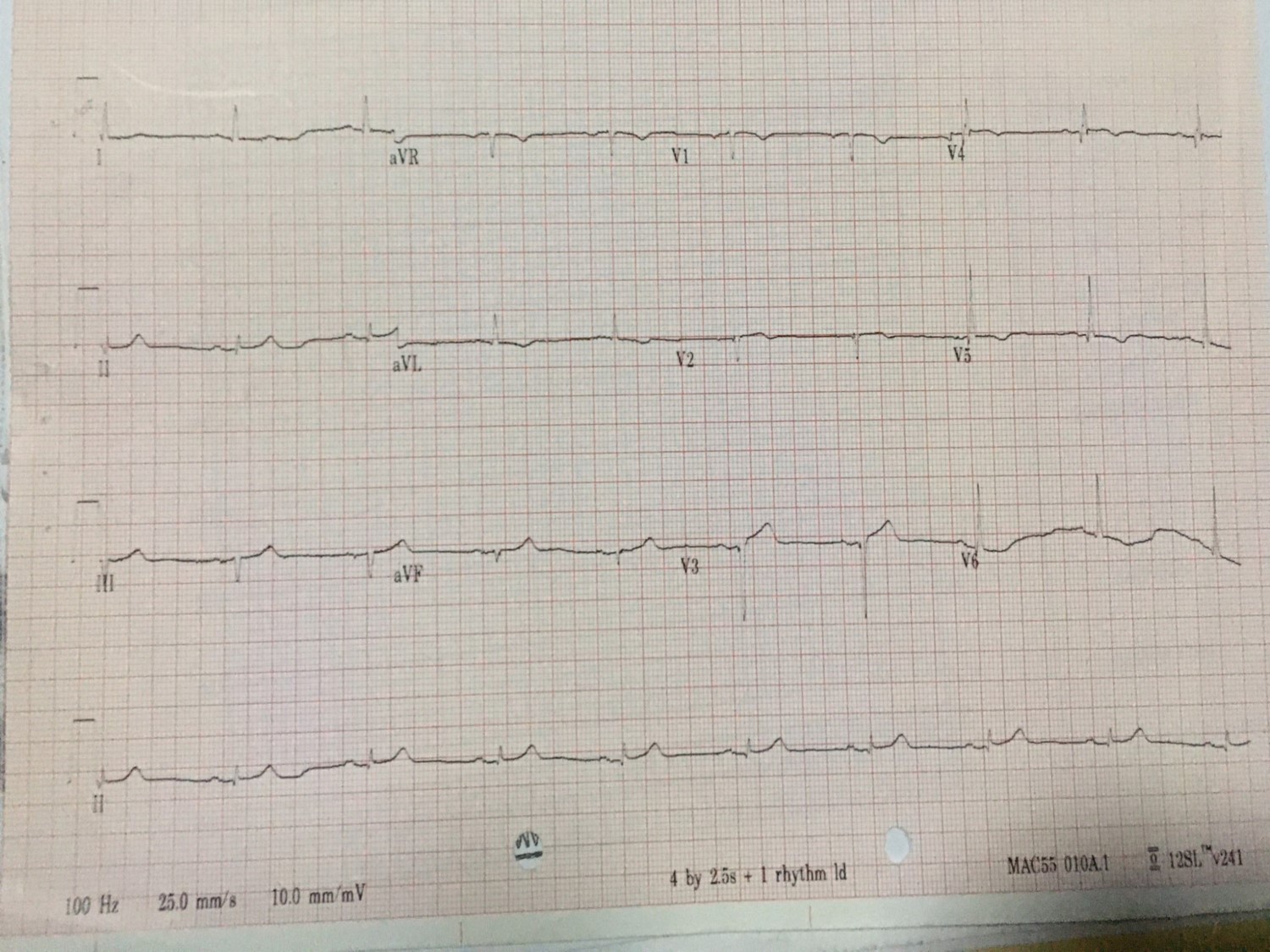 Relevant Catheterization Findings
Coronary angiogram revealed distal left main (LM) 70% stenosis, proximal left anterior descending artery (pLAD) CTO and ostial left circumflex artery (LCX) 80% stenosis. Proximal right coronary artery (pRCA) had 80% stenosis which was a dominant artery. Patient was referred for CABG after calculating a high SYNTAX II score. However, patient refused and decided for multivessel PCI. First PCI was performed to the pRCA.

jumain2019right.wmv

jumain2019leftspider.wmv

jumain2019leftap.wmv
Interventional Management
Procedural Step
Engaged the right radial (5Fr, Optitorque) and femoral arteries (7Fr, EBU 3.5). Contralateral injections were done to visualize the collaterals (RCA to septal LAD). Patient had PCI to proximal RCA 2 months prior. Plan was to wire the CTO LAD and secure the ostial LCX access and to complete the PCI with two stents strategy. The LAD CTO was attempted with Fielder XTR wire with Mogul Micro catheter and Run through Floppy to D1.However unable to cross the CTO despite using multiple different wires, hence decided for ante grade wire escalation (AWE). By using retrograde injection, the course of CTO was identified. Punctured the proximal cap using Cross-IT 100, however retrograde injection showed wire in sub intima. Then, using parallel wire technique, lesion was crossed with Pilot 200. Retrograde injection confirmed wire was in the true lumen. Predilated the CTO, exchanged the wire to BMW in the LAD. IVUS was done to ascertain LAD size, then stented with 2.75x46mm and post dilated with 3.5x15mm. Predilated the LCX, and stented the ostial LCX with DES 3.5x38mm. DES the distal LM to proximal LAD with 4.0x18mm. Followed by mini crush technique with 2 stent strategy. Final kissing balloon and POT were performed. IVUS was done, noted ostial LM stent under-expanded, hence post dilated with NC 5.0x8mm and finalized with re-POT. Final IVUS images were taken, results were acceptable with TIMI 3 flow. Patient was brought back 5 months later for a re-look coronary angiogram.

kissing.wmv

IVUSPoststentLMLAD.wmv

final.wmv
Case Summary
In multi-vessel complex PCI, re-vascularization of the diseased RCA (non left main lesion) prior to unprotected left main PCI reduces the risk of acute ischemia during LM PCI. Parallel wire technique, is a useful ante grade CTO wiring technique, if use correctly in a timely manner. POT and kissing balloon technique for two stent bifurcation PCI is mandatory for better outcome.
Leave Comments
TCTAP 2021 Virtual
Apr 12, 2021
Congratulations on the successful result!