Lots of interesting abstracts and cases were submitted for TCTAP 2021 Virtual. Below are accepted ones after thoroughly reviewed by our official reviewers. Don't miss the opportunity to explore your knowledge and interact with authors as well as virtual participants by sharing your opinion!
TCTAP C-078 . Presentation
Presenter
Heng Shee Kim
Authors
Heng Shee Kim1, Mahadevan Gurudevan2, Vicknesan Kulasingham2, Kim Fong Ng2, Kumutha Gobal2, Tee Choon Keong2, Adelyn H2, Chuey Yan Lee2
Affiliation
Sultanah Aminah Hospital, Malaysia1, Hospital Sultanah Aminah, Malaysia2,
TCTAP C-078
CORONARY - Drug-Eluting Balloons
Less is More: Hybrid Use of Drug-coated Balloon and Drug-eluting Stent in Non-left-main True Bifurcation PCI
Heng Shee Kim1, Mahadevan Gurudevan2, Vicknesan Kulasingham2, Kim Fong Ng2, Kumutha Gobal2, Tee Choon Keong2, Adelyn H2, Chuey Yan Lee2
Sultanah Aminah Hospital, Malaysia1, Hospital Sultanah Aminah, Malaysia2,
Clinical Information
Patient initials or Identifier Number
L.U.K
Relevant Clinical History and Physical Exam
A 65-year-old male, non-smoker, with a cardiovascular risk factor of hypertension and family history of ischemic heart disease. He had a history of admission for NSTEMI in a non-PCI capable district hospital three months ago. He was treated medically and referred to us, the PCI-capable hub hospital. During the review in the clinic, he had NYHA I, CCS I-II symptoms. Physical examination was unremarkable with well-controlled hypertension and no sign of familial hypercholesterolemia.
Relevant Test Results Prior to Catheterization
Creatinine 80 umol/L, estimated GFR: 89 mL/min/1.73m2 Total cholesterol 3.0 mmol/L; HDL cholesterol 0.6 mmol/l; LDL cholesterol 1.9 mmol/l; Triglyceride 1.2 mmol/lFasting blood sugar 5.8 mmol/l
ECG: sinus rhythm with poor R wave progressionEchocardiogram: Good left ventricular function with LVEF 55 – 60%, apical hypokinesia, LVH with IVS 1.6 cm.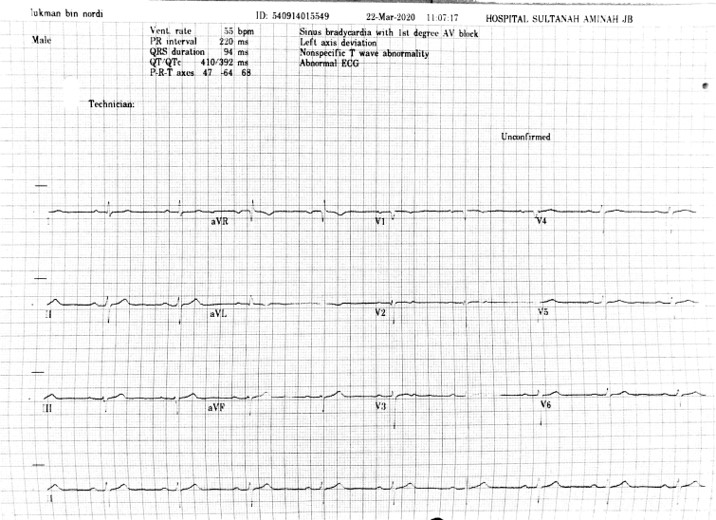 Relevant Catheterization Findings
CAG showed 95% tight stenosis of mid LAD artery with TIMI II distal flow, tight 90% ostial, and 80% mid-Diagonal 1 artery stenosis, which indicate a true LAD-D1 Medina 1,1,1 bifurcation lesion. The left circumflex artery is recessive and mild disease over the proximal left circumflex artery.Dominant right coronary artery system and mild disease over mid-RCA artery.
Target lesion: LAD- Diagonal bifurcation lesion, side branch showed tight ostial lesion, around 5mm, and supply large area.

PreLCA.mp4

preRCA.mp4
Interventional Management
Procedural Step
PCI strategy: hybrid bifurcation PCI with DES to the main vessel (MV) and DCB to the side branch (SB). Right radial 6F approach with XB 3.0 6F guiding catheter.The case started with wiring LAD with PT II moderate support wire and Diagonal 1 (D1) with BMW II wire. Pre-dilated MV with SC 2.5x15 balloon at mid LAD which showed a good opening at the tightest point, followed by SB dilatation with the same balloon up to 16 atm. There is a Type B dissection over the LAD distal to bifurcation with the well opened ostial SB and no dissection, TIMI III flow. We also POBA to the mid D1 tight stenosis which cause a non-progressive Type A dissection.After lesion preparation, ostial SB showed no dissection with residual stenosis <30%. We decided to treat the Ostial SB with DCB INPACT Falcon 2.75x20 mm at nominal pressure for 60s. The SB showed good results with no dissection but the mLAD dissection is causing a slow flow of MV. We quickly stented the MV with Promus Premier 3.0x38 mm. We then post dilated the MV stent with the stent balloon before removed the jailed wire and rewire the SB easily. Further post-dilatation was performed to MV stent and POT with NC 3.5 x 10 mm at 28atm. We then perform the kissing balloon technique over the bifurcation with NC 3.5 x 10 mm to MV and NC 2.5 x 15 mm to SB at nominal pressure. Final POT with NC 3.5 x 10 at28 atm. The final angiogram showed a good result with TIMI III flow of MV and SB, residual SBstenosis less than 20% with no flow-limiting dissection.

predilatation.mp4

PCI.mp4

post pci.mp4
Case Summary
For non-complex bifurcation lesion, the hybrid PCI strategy of treating the side branch with a drug-coated balloon and main branch with a drug-eluting stent (DES) remained attractive as it fulfils the concept of "leaving nothing behind" without the elevated thrombotic risk seen with temporary or permanent implants such as bioresorbable scaffolds or DES.
In summary, in the correct group of patients, the simpler the better, and definitely, less is more.
Leave Comments
TCTAP 2021 Virtual
Apr 12, 2021
Congratulations on the successful result!