Lots of interesting abstracts and cases were submitted for TCTAP 2021 Virtual. Below are accepted ones after thoroughly reviewed by our official reviewers. Don't miss the opportunity to explore your knowledge and interact with authors as well as virtual participants by sharing your opinion!
TCTAP A-057 . Presentation
Presenter
Prathapkumar Natarajapillai
Authors
Prathapkumar Natarajapillai1, Blessvin Jino1
Affiliation
Meditrina Hospital, India1
TCTAP A-057
Renal Insufficiency and Contrast Nephropathy
Intra Vascular Ultrasound Guided Zero-contrast Percutaneous Coronary Intervention in Chronic Kidney Disease Patients: Feasibility and Short-term Outcome
Prathapkumar Natarajapillai1, Blessvin Jino1
Meditrina Hospital, India1
Background
Contrast-induced acute kidney injury (CI-AKI) is a serious complication after percutaneous coronary intervention (PCI) and it is associated with poor short-term and long-term outcomes. With the advent of intravascular ultrasound (IVUS) imaging, zero-contrast PCI is feasible and it helps in preventing CI-AKI. Our study aims to assess the safety and short- term outcome of IVUS guided zero-contrast PCI in chronic kidney disease (CKD) patients with complex demographics or lesion morphology.
Methods
Patients underwent "Zero- contrast PCI" if they had indication for revascularization and they had met any of the following criteria: (1) eGFR<30 mL/min/m
2
; (2) eGFR<45 mL/min/m
2
with age >75 years and/or left ventricular ejection fraction (LVEF) <35%. Technical success was defined as minimal stent area (MSA) > 80% of average reference lumen with no significant edge dissections and plaque burden of<50% at landing zones. Procedural success was defined as technical success without in-hospital mortality.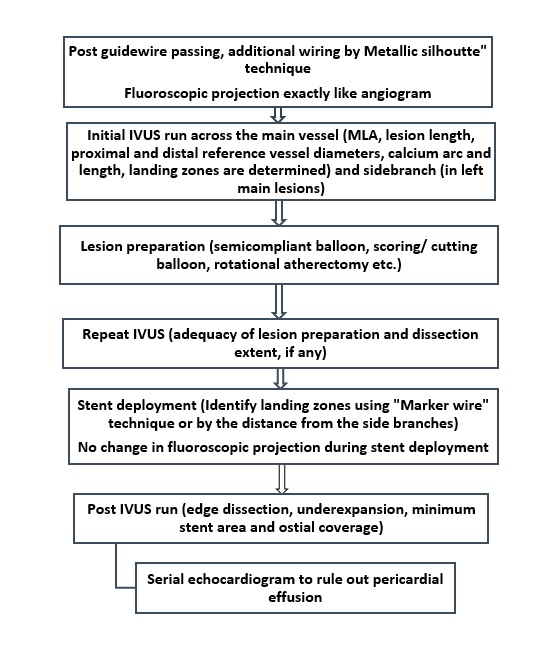 Results
A total of 22 patients (40 vessels), all men (mean age, 69.3 ± 10.7 years), underwent zero-contrast PCI during the period of November 2019 to May 2020. The mean estimated glomerular filtration rate (eGFR) and serum creatinine were 30.7± 12.1mL/min/1.73m
2
and 2.7± 1.4 mg/dL, respectively. The mean BMC2 risk for dialysis was 2.1 ± 1.1 %, mean SYNTAX score was 25.7 ± 15.3, and mean left ventricular ejection fraction (LVEF) was 43.5 ± 12.6. 12 (54%) patient had SYNTAX score ≥ 23. Complex PCI including Eight (20%) left main coronary artery (LMCA) PCI including three LMCA bifurcation PCI, two chronic total occlusion PCI and two rotational atherectomy were also done. In all except two vessels, procedure was completed with "Zero" contrast. Two patients required minimal contrast because of persistent chest pain and hypotension due to coronary perforation. Technical and procedural success was 95% without any periprocedural complications. On median follow-up of three months, no major adverse cardiovascular events (MACE) were reported.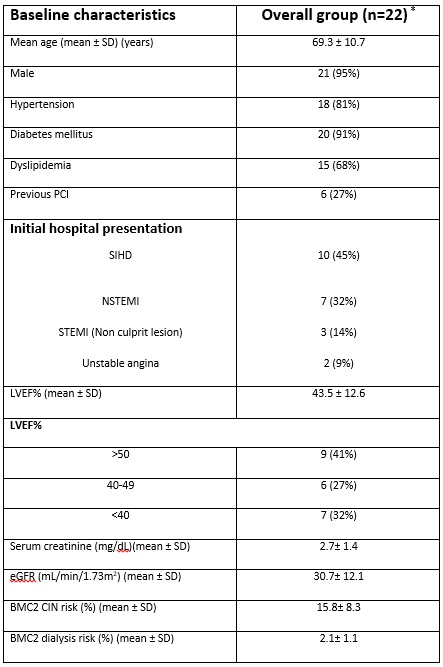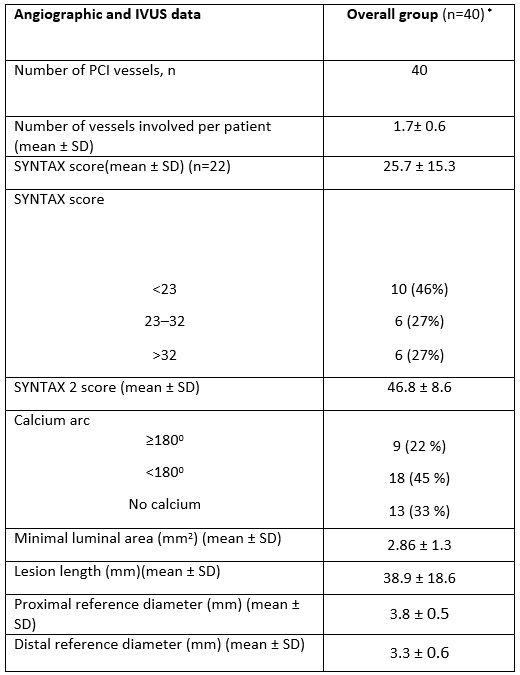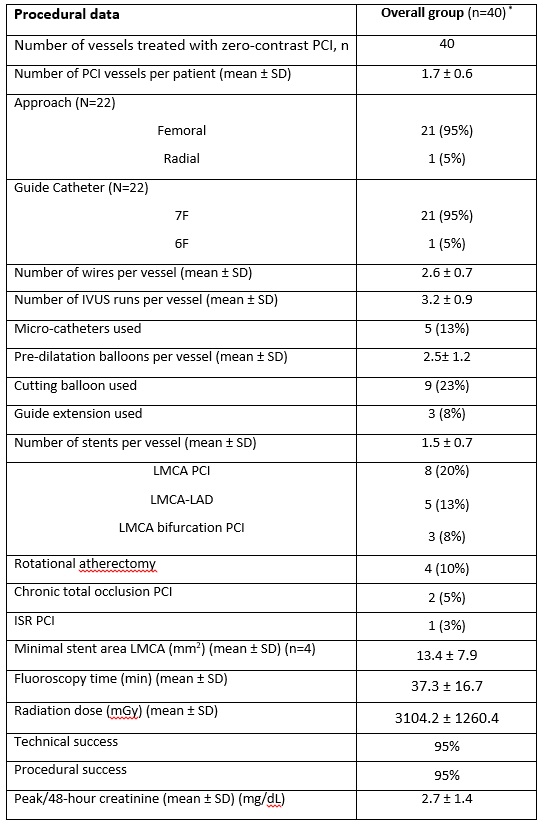 Conclusion
Zero-contrast PCI guided by IVUS is safe in coronary artery disease (CAD) patients with moderate-to-severe CKD. High procedural success can be achieved even in cases with complex clinical characteristics and lesion morphology.
Leave Comments
TCTAP 2021 Virtual
Apr 12, 2021
Thanks for sharing your report.